NewsSplash Issue 9 Spring 2021

From the President's Desk



Welcome to the International Zebrafish Society (IZFS) News Splash newsletter, and the first issue of 2021!

- read more -

---
International Zebrafish Conference (IZFC)

Join us for the virtual experience at the

16th

International Zebrafish Conference (IZFC)

, June 16 - 22. The IZFC has been THE "go to" meeting for the zebrafish community for more than two decades. The virtual conference means more delegates than ever, from across the globe, can participate in the largest zebrafish meeting in the world.





Sessions will be live-streamed and recorded for later on-demand access by meeting registrants, so your science can have maximum reach and impact, and there's no need to pick between competing sessions.
The call for abstracts is officially open! Get started on those submissions, and complete your registration today. The call for abstracts and early registration deadline is April 21.
IZFC 2021 Keynote Lectures
Sean B. Carroll, PhD

Balo-Simon Endowed Chair of Biology,
University of Maryland
Vice President for Science Education,
Howard Hughes Medical Institute

Janet Rossant, PhD
Senior Scientist and Chief of Research Emeritus
Hospital for Sick Children
University Professor
Department of Molecular Genetics, University of Toronto
Conference Organizers
"We are eagerly anticipating the 16th International Zebrafish Conference! While we will miss meeting each other in person, we are excited for the opportunities the virtual conference platform will provide. Going virtual means more delegates than ever from around the globe can participate in the largest zebrafish meeting in the world. We sincerely hope you will be able to join us this June 16-22 - we look forward to learning and connecting at the IZFC!" –Your IZFC Organizing Committee
Chair - Phil Ingham
IZFS President, Nanyang Technological University, Singapore
Elisabeth Busch-Nentwich
IZFS Board member, University of Cambridge, Department of Medicine, United Kingdom
Brian Ciruna
University of Toronto, Canada
Kessen Patten
Institut National de Recherche Scientifique, Montreal, Quebec, Canada
Leonor Saude
Instituto de Medicina Molecular, Portugal
Zilong Wen
The Hong Kong University of Science and Technology, Hong Kong, China
Click here for more information and for important dates and deadlines.
---
Board of Directors Nominations
Do you have a colleague who is an outstanding leader is the zebrafish community? Are you someone who is passionate about the future of zebrafish research?
IZFS is accepting nominations for the 2021 election for new members of the Board of Directors. The Board acts on the behalf of IZFS to guide the activities and direction of the Society. This is an excellent opportunity to get involved!
Click here for more detailed information and to nominate!
---
IZFS Webinars
In April 2020, IZFS launched the IZFS Webinar Series. The series includes a variety of research and professional development topics. The content of the webinars is designed for researchers from every career level and to share the latest scientific findings, methods, technologies, and products to facilitate research. The format provides direct access to experts in the field in an interactive online setting.
Disease Modeling: Discovery and Modeling of Undiagnosed Human Diseases
Presented by:
Monte Westerfield, PhD, University of Oregon
April 6, 2021
11:00 am - 12:00 p.m. ET and
8:00 - 9:00 p.m. ET
Innovations in zebrafish chromatin analysis: CUT&RUN, CUT&TAG and ChIP methods
Presented by:
Mary Goll, PhD, University of Georgia
Patrick Murphy, PhD, University of Rochester Medical Center
May 4, 2021
9:00 - 10:00 a.m. ET and
4:00 - 5:00 p.m. ET
Click here for more webinar information and to view the archive.
---
Member News
Click here to read about fellowships, awards and honors bestowed on zebrafish community members.


---
In Memoriam
Lewis Wolpert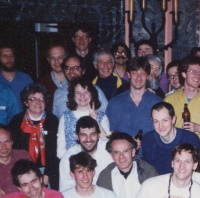 The death last month of Lewis Wolpert marks the end of an era for developmental biology. Lewis was quite simply one of the giants of the field, whose intellectual contributions have permeated our thinking for over half a century and whose famous textbook has brought the beauty of our subject to countless thousands of students around the world. His oratory skills gave him a Thespian aura that could have graced a Shakespearian stage. His observation that "it is not birth, marriage or death but gastrulation which is truly the most important event in your life" is perhaps the most famous and certainly the most often quoted in our field.

- continue reading -
Friedrich Bonhoeffer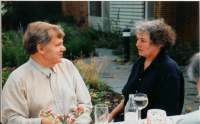 With the death of Friedrich Bonhoeffer on January 29, 2021, developmental neurobiology has lost one of its founders and pre-eminent pioneers. His discoveries of the molecular mechanisms of axon guidance and map formation in the visual system have fundamentally and indelibly transformed the field.

- continue reading -
---
Meet the PI
Click here to read the Meet the PI features.
---
Meet the Researcher
Click here to read the Meet the Researcher features.
---
Science Spotlight
Appending our knowledge of limb evolution: new insights from zebrafish mutants
By Prableen K. Chowdhary
Science Spotlight highlights one or more recent papers that are of broad interest to the zebrafish community and make a notable impact on their field. The IZFS board would like to encourage trainees who are interested in science communication to get involved in interviewing authors and writing pieces for this section in future issues of the News Splash. If you would like to participate in preparing a piece for the next newsletter, please contact Cecilia Moens (cmoens@fredhutch.org).
The Spring 2021 Science Spotlight article is written by Prableen K. Chowdhary. Prableen is a graduate student in the Brewster Lab at the University of Maryland, Baltimore County, where she studies how circadian rhythms are altered under hypoxia in zebrafish embryos. In this issue, Prableen chose to write about a recent paper in Cell from Matthew Harris's lab: Hawkins et al., (2021) Latent potential to form limb-like structures in zebrafish.
- continue reading -
---
Highlights from the 20th Australia and New Zealand Zebrafish Meeting, 19-22 Jan 2020, Yarra Valley, Australia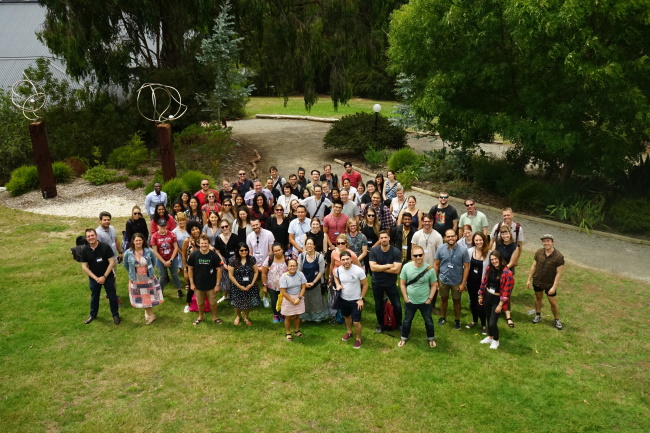 Conference Organisers: Dr Patricia Jusuf, Dr Tamar Sztal, Dr Seb Dworkin, Dr Andrew Cox
The 20th Australia and New Zealand Zebrafish Meeting was held at the beautiful Yarra Valley Estate, in Melbourne's Yarra Valley, on the 19th of January, 2020.
- continue reading -
---
Technical Report
Of Genes and Regulatory elements: A New view of the Zebrafish Genome
By Priyanka Jamadagni
The technical report section features new methods and resources that are likely to be of broad use to the Zebrafish community. We encourage technical report articles from early career researchers and trainees. If you are interested in contributing an article, please contact Karuna Sampath (email: K.Sampath@warwick.ac.uk). In this issue, we feature a technical report piece by Priyanka Jamadagni. Priyanka is a doctoral student at the Institut National de Recherche Scientifique (INRS) in Canada where she is working in the laboratory of Dr. Kessen Patten. Priyanka's research focuses on understanding the role of a chromatin remodeler 7 (CHD7) in brain development and in CHARGE syndrome/Autism Spectrum Disorder using zebrafish as a model.
- continue reading -
---
Science and Society
Jules Verne, the Natural World and our Future
Classes start this month here in the Southern Hemisphere and like many I dread the looming hours of Zooming and anxiously await my turn to get "stabbed", hopefully next week. My eyes, tired of the light-emanating screen of the computer, yearn for the reflected light of the printed page, so in the evening I read before going to bed. In my version of escapism I have just finished Jules Verne's 20,000 leagues under the sea, in an original print book from years ago.
- continue reading -
---
Upcoming Events
16th International Zebrafish Conference
June 16-22, 2021
Online
Latin America Zebrafish Network (LAZEN)
Update on potential virtual course and rescheduled practical course
ZDM14
October 11-14, 2021
Durham, North Carolina, USA
---
Job Posts
To post to the IZFS Job Board you must be a member. Click here to join. If you have a job to post, please send an e-mail to info@izfs.org
Zebrafish Faculty Member: Medical University of South Carolina
Charleston, South Carolina, USA
Posted 3/22/21
PhD Research Position: Weidinger Lab
Ulm, Germany, Europe
Posted 3/19/21
Graduate Student Positions: Collins Lab
Saskatoon, Saskatchewan, Canada
Posted 3/17/21
(3) Postdoctoral Research Associates: Houart Lab
London, United Kingdom, Europe
Posted 2/25/21
Assistant Professor: Integrative Animal Biology, Syracuse University
Syracuse, New York, USA
Posted 2/25/21
Assistant Professor: Bioinformatics, Syracuse University
Syracuse, New York, USA
Posted 2/25/21
Postdoctoral Position: Mayo Clinic College of Medicine
Rochester, Minnesota, USA
Posted 2/25/21
Postdoctoral Position: Jingli Cao Lab, Weill Cornell Medical College
New York, New York, USA
Posted 2/25/21
Postdoctoral Fellow: Schuman Lab
Frankfurt, Germany, Europe
Posted 2/10/21
Assistant Professor, Molecular Cell Biology
Merced, California, USA
Posted 2/2/21
(3) Postdoctoral Positions: National Institute of Health - Weinstein Lab
Bethesda, Maryland, USA
Posted 1/21/21
Research Specialist: University of Wisconsin - Madison
Madison, Wisconsin, USA
Posted 1/13/21
Study Support Technician (Aquatics) - Howard Hughes Medical Institute
Ashburn, Virginia, USA
Posted 1/8/21
Research Technologist Position: Medical College of Wisconsin
Milwaukee, Wisconsin, USA
Posted 1/6/21
---
Have an idea for the newsletter or would like to contribute? Contact us at info@izfs.org! We'd love to hear from you!
---