George Streisinger Award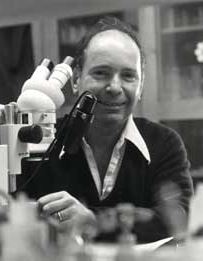 The International Zebrafish Society has established the George Streisinger Award for a senior investigator who has made outstanding and continued contributions to the advancement of the zebrafish field. George Streisinger (1927-1984) was the founding father of zebrafish research. Working at the University of Oregon in the 1970s and early 1980s, George Streisinger established a zebrafish research colony and developed the first methods for mutagenesis and mutant screening with the goal of studying the development of the nervous system through genetic analysis. George Streisinger's enthusiasm for the zebrafish and its potential for understanding vertebrate development was infectious. After his untimely death in 1984, his work on this still-nascent model organism was continued and taken in new directions by colleagues at the University of Oregon and around the world. The George Streisinger Award recognizes a senior investigator who, like George himself, has done sustained and foundational work that has opened new possibilities within the zebrafish field that benefit all of our research today.
Contributions may be in the form of conceptual advances that have opened important new research directions and/or the development of tools or resources that have been transformative in enabling new research possibilities.
Members of the zebrafish community are invited to submit nominations for the George Streisinger Award. Generally, nominations are accepted in January and awardees are recognized during the International Zebrafish Conference (IZFC) in June.
Nomination requirements include:
A statement (up to one page) written by the nominator describing the key contributions of the nominee to the field. The statement must be co-signed by two or more members of the community who support the nomination.
A list of up to ten publications or links to online resources or databases that illustrate the central contributions of the nominee to the field.
Awardee Will Receive:
• A personalized award
• Travel Award
• Recognition on izfs.org
---
George Streisinger Award Recipients
2019 - Wolfgang Driever
Centre for Biological Signaling Studies, Germany
2018 - Monte Westerfield
University of Oregon, USA
2017 - Christiane C. Nuesslein-Volhard, PhD
MPI for Developmental Biology Tuebingen, Germany
2016 - Charles Kimmel, PhD
University of Oregon Department of Biology, USA