The First International Zebrafish Conference/Workshop in Qatar
Huseyin C. Yalcin1, Fatiha M. Benslimane1 and Koichi Kawakami2
1Biomedical Research Center, Qatar University, Doha, Qatar
2Laboratory of Molecular and Developmental Biology, National Institute of Genetics, and Department of Genetics, SOKENDAI (The Graduate University for Advanced Studies), Mishima, Shizuoka 411-8540, Japan
Qatar is a middle eastern country that will host the 2022 FIFA World Cup. In recent years, the country is known with its fast development particularly in oil and gas industry, and infrastructure. In addition, there is a substantial effort to advance science and technology. For this purpose, the country is investing in research to transform the nation into a knowledge based economy. As a result of such efforts, Qatar is unique in its region with world-class universities and research institutions.
For instant, Qatar is carrying out a comprehensive effort named Qatar Genome Project (QGP). It is a population-based project that aims to implement precision medicine in the nation. The project is at its pilot phase with over 10,000 genomes sequenced and the generated data is being combined with other omics data and comprehensive phenotypic data that is collected for each participant at Qatar Biobank (QBB). The project database is available for scientists to conduct further genetic research. Thanks to this project and the efforts of local scientists, several candidate mutations for a variety of disorders have already been identified. This necessitates efforts for understanding the functionality of these mutations. Being an easily genetically modifiable organism, zebrafish experimentation in Qatar supports identification of disease causing variants in Qatari genome.
The Biomedical Research Center (BRC) at Qatar University (QU) established the first zebrafish facility in 2015. Since then, zebrafish research in Qatar has advanced, and there has been an increasing interest from research institutions in Qatar to use this model. More recently, a second zebrafish facility was established in Sidra Medicine, which is a modern research hospital.
To advance and enhance zebrafish research activities, zebrafish researchers from BRC in QU decided to organize the First International Conference/Workshop in Qatar, entitled "Current and Emerging Trends in Zebrafish Biomedical Research" between 13 and 17 of April 2019 (Link to the event: http://brc.qu.edu.qa/conference/zebrafish-workshop). Five-day event involved two-day conference followed by three-day hands on training sessions. Renowned zebrafish researchers gave novel examples of zebrafish research for investigating a variety of disorders including, cardiac, neuronal, metabolic disorders and cancer. There were a total of 18 national/international invited speakers for the two-day conference.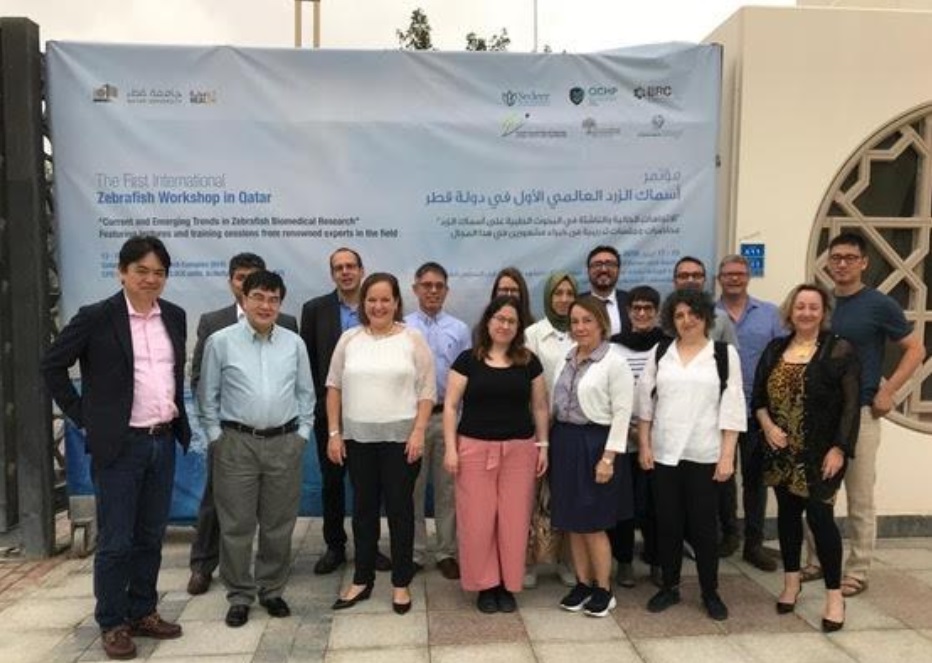 Figure1: Arrival of the International Speakers to Qatar University. Picture was taken at the main gate of Qatar University. Fromthe left front row: Prof. Kawakami, Prof. Zhiyuan, Dr. Edepli, Ms. Yaylacioglu, Prof. Dincer, Dr. Konu, Prof. Nieto. From the left back row: Prof. Ramchandran, Prof. Stainier, Dr. Chen, Dr. Busch, Ms. Keskus, Dr. Yalcin, Dr. Farmer, Mr. Demirler, Dr. Fuss, Dr. Zhang.
The conference was officially started with welcoming speeches from Prof. Mariam Al-Ali Al-Maadeed, Vice President for Research and Graduate Studies, Qatar University; Prof. Asmaa Ali J F Al-Thani, Director of Biomedical Research Center, Qatar University; Dr. Fatemeh Darakhshan, Program Manager, Qatar National Research Fund (QNRF); and conference organizer Dr. Huseyin Yalcin, Assistant Professor, Biomedical Research Center, Qatar University.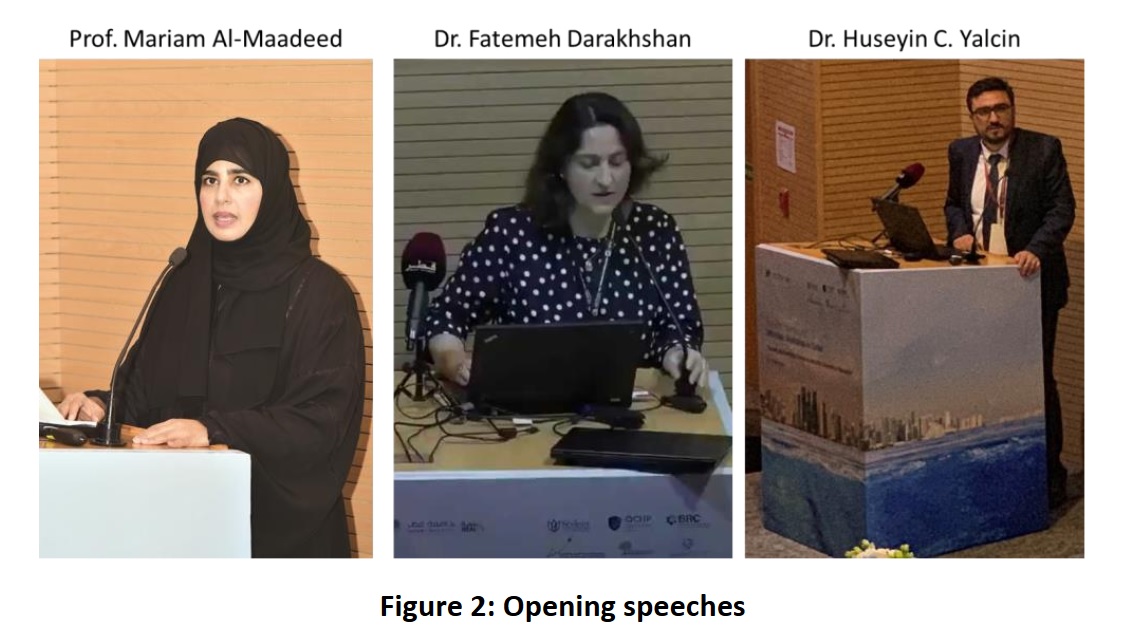 In the first day of the conference, there were a total of 6 oral presentations and 25 poster presentations. Oral presentations were on the developmental biology studies using zebrafish. The first presentation was delivered from Prof. Didier Stainier, Max Planck Institute for Heart and Lung Research, on cardiac development and regeneration in zebrafish. In the same day, Prof. Ramani Ramchandran, Medical College of Wisconsin, explained contribution from his lab to understand cranial vasculogenesis using zebrafish model. Prof. Maria Angela Nieto Toledanos, Cajal Institute, Spain, presented her fabulous speech on the epithelial to mesenchymal transition in heart laterality in zebrafish. Other talks were: Dr. Huseyin Yalcin, QU BRC, on assessment of cardiovascular function in embryonic and adult zebrafish; Dr. Elisabeth Busch-Nentwich, Sanger Institute UK, on functional genomics approaches in zebrafish; and Dr. Stefan Fuss, Bogazici University Turkey, on zebrafish nervous system regeneration.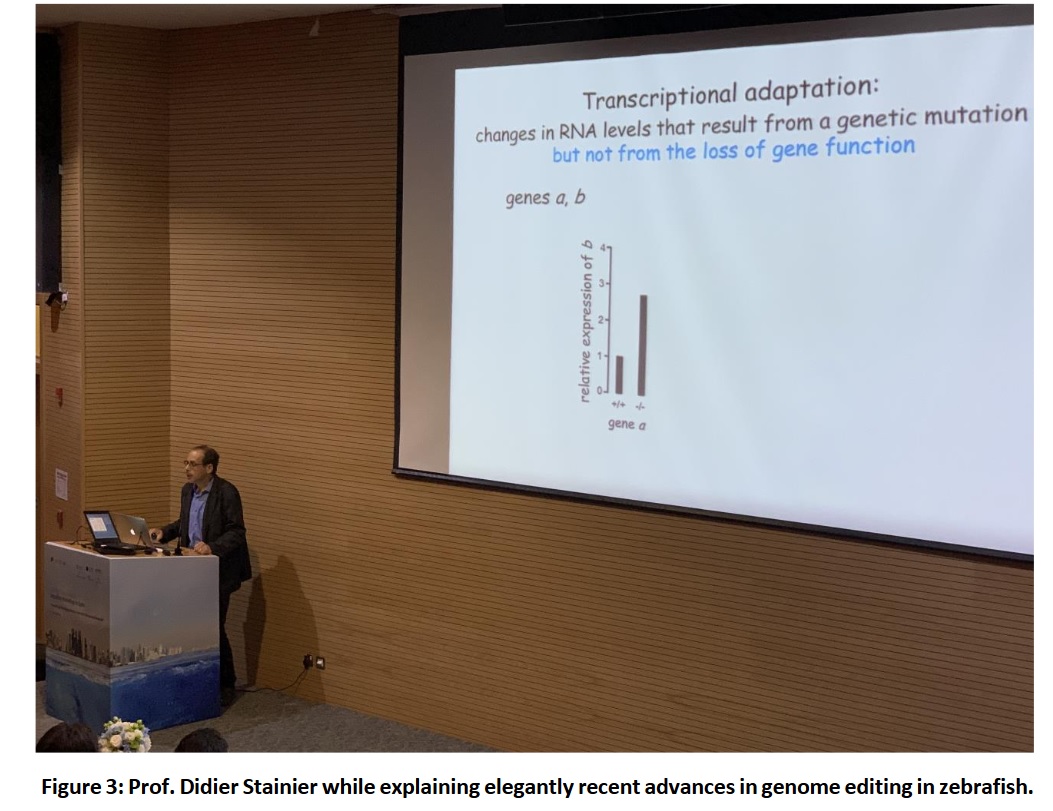 25 posters competed for poster awards (Figure 4). Best 3 posters were selected as award recipients. Ms Zain Zakaria (right), BRC QU, got the 3rd best poster award; Ms. Mahya Hosseini (middle), Royan Institute, Iran, got the best 2nd poster award and Mr. Mehmet Demirler (left), got the best poster award (Figure 5).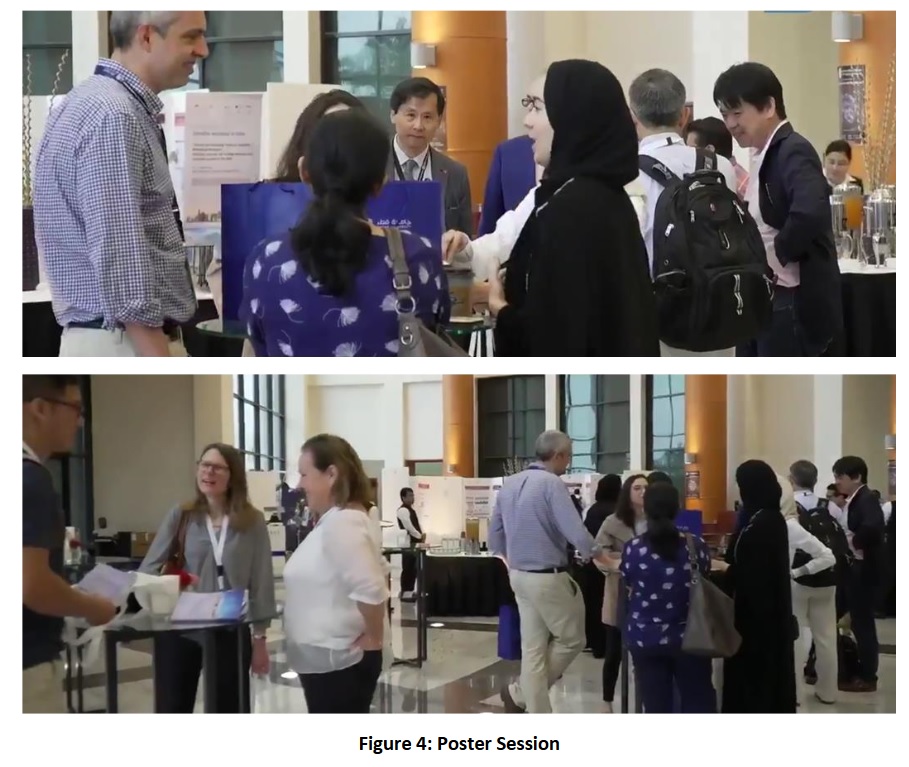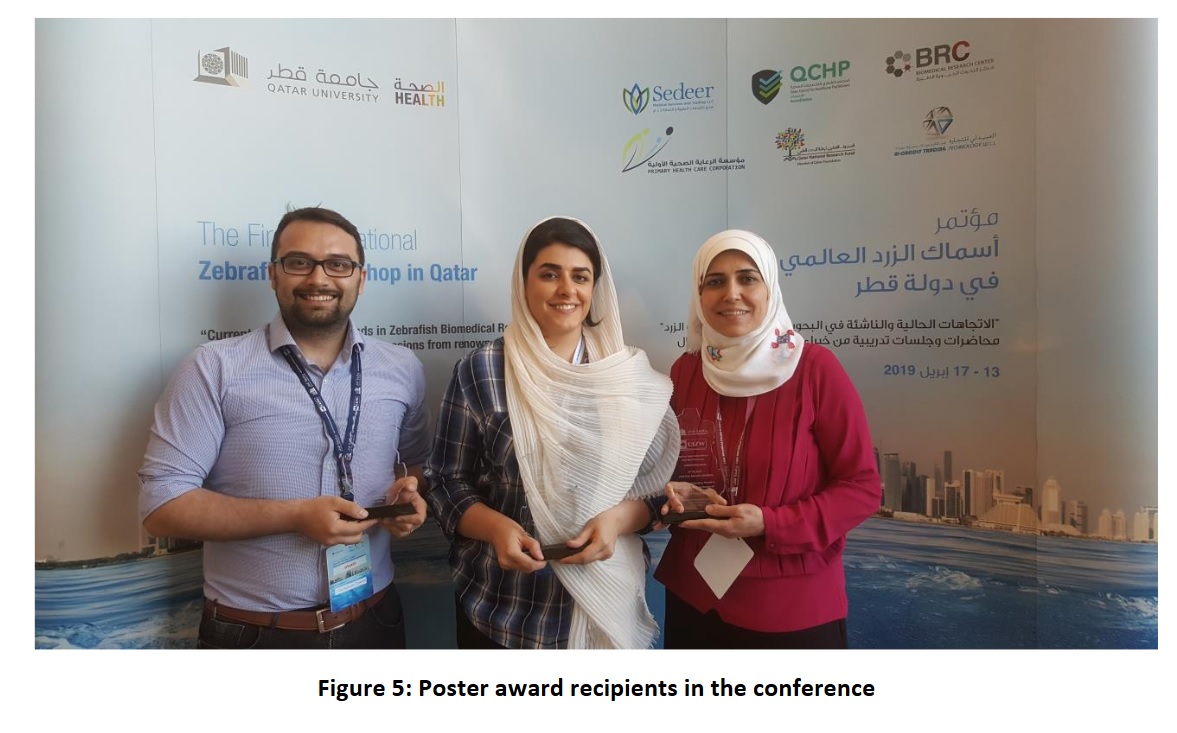 In the second day of the conference, there were a total of 10 presentations on zebrafish disease models. The first presentation was delivered by Prof. Koichi Kawakami, National Institute of Genetics, Japan, on transposon-mediated genetic methods in zebrafish and their applications to the study of functional neural circuits. There were three cancer talks that day delivered by Prof. Gong Zhiyuan, National University of Singapore on liver tumor initiation and drug screening using zebrafish; Dr. Kirsten Sadler Edepli, New York University Abu Dhabi, UAE, on cancer epigenetics studies with zebrafish; and Dr. Ozlen Konu, Bilkent University, Turkey, on zebrafish xenograft models for liver tumor investigations. Dr. Wenbiao Chen, Vanderbilt University, USA presented his diabetes investigations with zebrafish focusing on molecular mechanisms of beta cell compensation and decompensation under metabolic stress. There were also several cardiac talks presented by Prof. Pervin Dincer, Hacettepe University, Turkey; Dr. Michail Nomikos, Qatar University; Ms. Zain Z. Zakaria, Biomedical Research Center, Qatar University, and Sahar Da'as, Sidra Medicine in Qatar. Finally (last but not the least), Dr. Gheyath Nasrallah, from Qatar University, gave a presentation about the toxicology studies with zebrafish.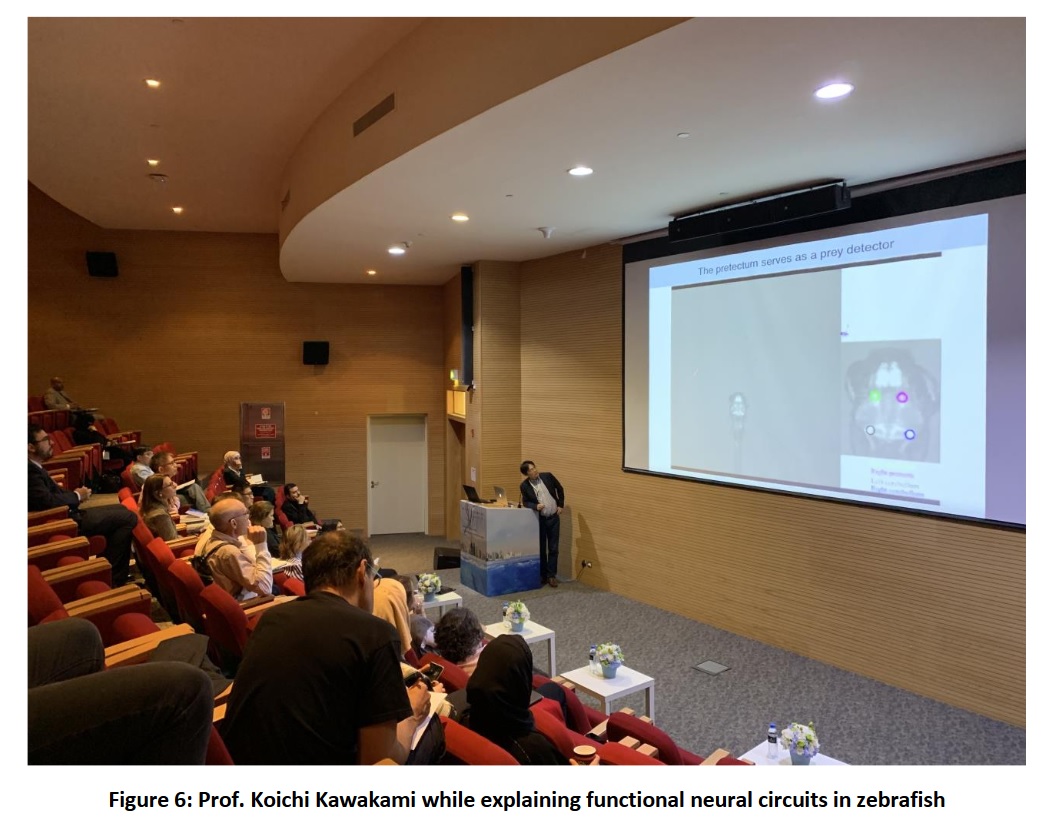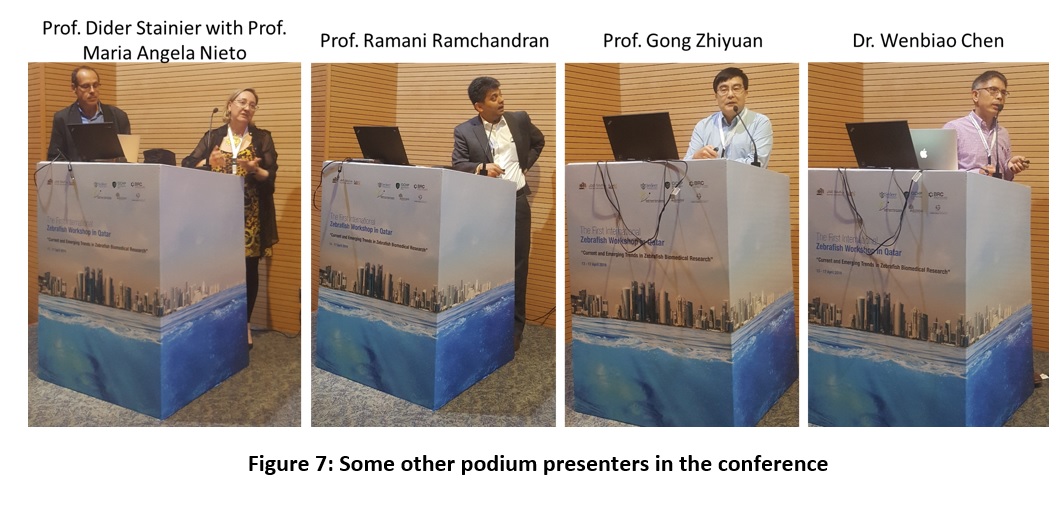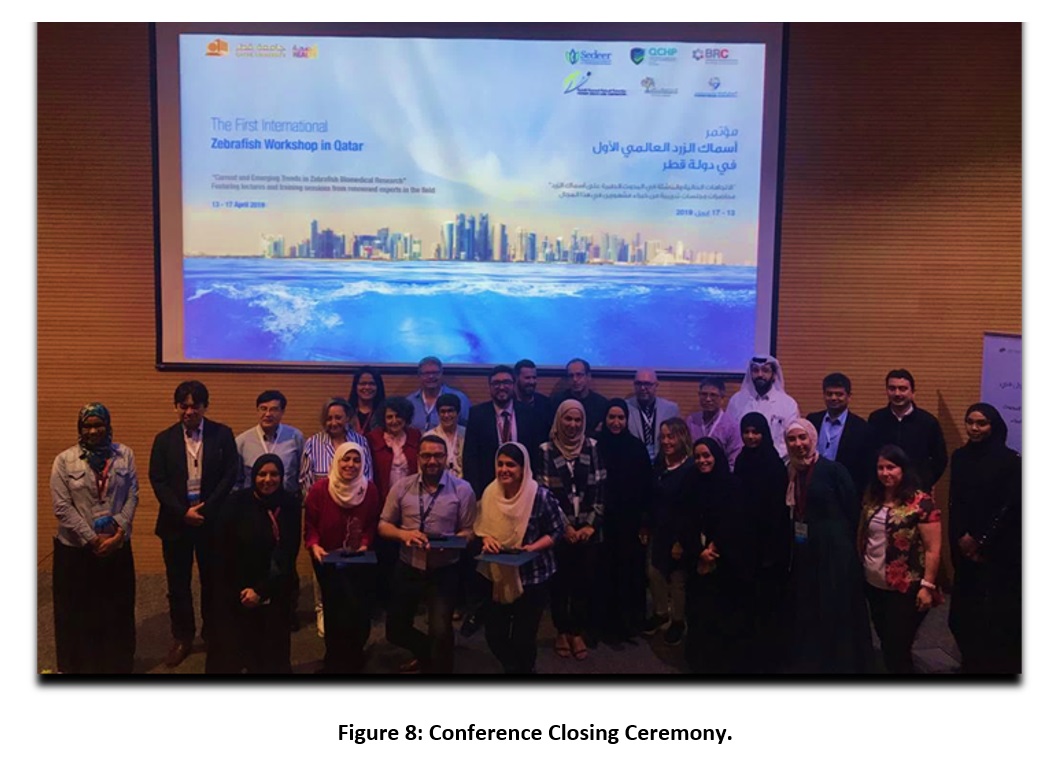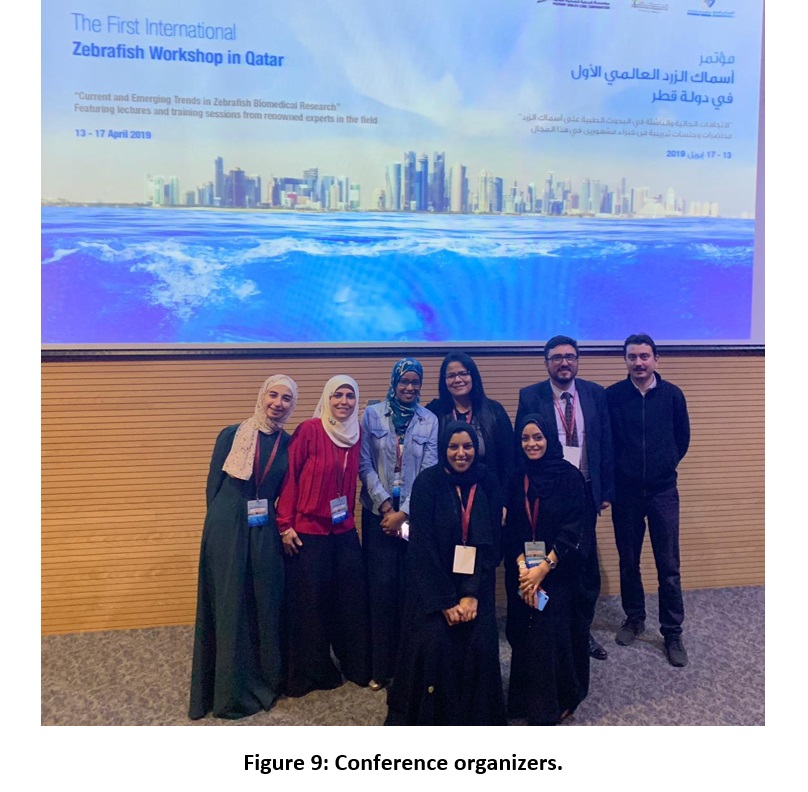 Conference Gala Diner was organized in historic Souq Waqif which is an exotic, historical, oriental bazar in Qatar. Invited speakers got the chance to experience the Middle Eastern Arabic culture and tasty food. During the conference, cultural tours were organized to Museum of Islamic Art and National Museum of Qatar, two signature buildings of the nation. Speakers also got the chance to see the modern side of Qatar as the tours included a man made artificial island, the Pearl, and a recently renovated cultural village, Katara. Some of the speakers also went to sand dunes to experience an adrenaline rush with sand dune jeep safari.
Two day conference was followed by three day workshop which involved hands on training sessions on the mostly utilized techniques in zebrafish. During hands on training sessions, attendees learned about many experimental techniques including husbandry of zebrafish; fluorescent/confocal zebrafish imaging; morpholino gene knockdown; Crispr-Cas9 genome editing; adult/larvae zebrafish behavioral monitoring; zebrafish RNA sequencing analysis; toxicology assays; and xenograft cancer models in zebrafish. A total of 40 participants attended the workshop.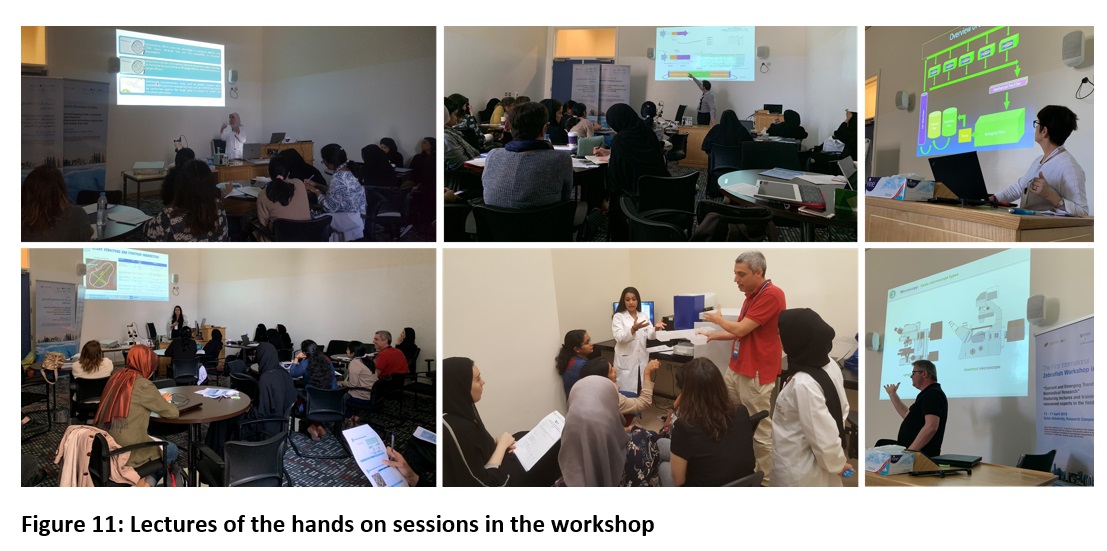 The event was a big success, it received a lot of attention from the media, national TVs and magazines broadcasted the event. Some of the media coverage links are below:
https://www.thepeninsulaqatar.com/article/20/04/2019/Qatar-University-workshop-introduces-%E2%80%98zebrafish-model%E2%80%99-research
https://www.gulf-times.com/story/629256/QU-conference-focuses-on-use-of-zebrafish-as-resea
https://twitter.com/QatarTelevision/status/1117342451772088320/video/1
The Director of BRC, Chair of QGP Committee and Board Vice Chairperson of QBB Prof. Asma Althani said: "It was our great pleasure to organize this event in Qatar. As QU BRC, we are proud to have successfully established the first zebrafish facility in the nation. We have been witnessing increasing research activities as well as interest in the nation on zebrafish"
Program organizer Dr. Huseyin Yalcin from BRC said: "We are very happy to be able to organize such a prestigious scientific event. We appreciate all the speakers for their support to us for advancing science in Qatar. We give great importance to zebrafish research. This powerful model enables us to investigate high prevalent conditions in the nation including congenital defects and diabetes".
Program organizer Dr. Fatiha Benslimane from BRC said "The conference was a great platform to initiate collaboration and the workshop provided basic training for interested students and researchers. I have had the chance to meet some of the leading researchers in the field of zebrafish research and I am looking forward to collaborating with them in the near future."
Conference speaker Prof. Koichi Kawakami said: "It is a great pleasure and honor to be part of the first international zebrafish workshop in Qatar. I was excited to see the emergence of the zebrafish research in the Middle-East area. I found people and systems in Qatar have a lot of potentials for the future success in biological and biomedical studies using zebrafish."
The program was organized by a generous award from the Conference and Workshop Sponsorship Program (CWSP) by Qatar National Research Fund (QNRF) and the sponsorship of the Primary Health Care Corporation, Al-Obeidly Trading Technology and Sedeer Medical.
This high level event is important to demonstrate zebrafish research is improving in asia/middle east in addition to western part of the world. Multiple collaborations were initiated during the event between Qatari scientists and visiting researchers.