Letter from the Outgoing President
July 26, 2022
Welcome to the News Splash Issue 13 Summer 2022! When I was writing my message from the IZFS President's desk for the Fall 2021 News Splash Issue, we were hopeful that as the Covid-19 vaccines became more broadly available, we would be able to return to our private and scientific lifestyles in pre-pandemic times. Our closely-knit scientific community was longing to meet in person to share advances in our labs, re-connect with friends, exchange ideas and initiate collaborations. With the unrelenting and increasingly infectious Covid-19 variants, however, we realized that we entered a new reality, in which we will have to learn how to live and work with the continued threat of this disease. More recently, the unprovoked and brutal invasion of Ukraine by Russia shook our confidence in European peace, divided countries and continues to challenge international relations.
In such times of growing isolation and division, exchanging scientific ideas, methodologies and discoveries across our international zebrafish community is particularly important. It was therefore inspiring to see how effectively our members leveraged the rapid innovations in tools enabling virtual communication that the pandemic stimulated. The IZFS webinars organized by Elisabeth Busch-Nentwich and Kristen Kwan, featured advances in genome editing, transgenesis, live imaging, and career advice to thousands of IZFS members and the broader zebrafish community. Simultaneously, the members of our IZFS committees on Sustainability, Diversity and Inclusion, and Communication reached across many time zones as they undertook these important issues. Importantly, the IZFS and the European Zebrafish Society leaders worked together to facilitate conference participation and collaboration across the two societies.
Throughout the year, the dedicated organizing committee (Ashley Bruce, Canada; Brian Ciruna, Canada; Hiromi Hirata, Japan; Corinne Houart, UK; Kristen Kwan, USA; Caroline Lei Wee, Singapore; and Flavio Zolessi, Uruguay) and the expert help of Nichole Nikolic, Alyssa Czerwinski and Alex Llanas from our EDI team based in Milwaukee, USA, were closely working with me to plan the 17th International Zebrafish Conference (IZFC) in Montreal, in person but also with a virtual platform. Already before the Covid pandemic, the IZFS decided to hold the international conferences in a hybrid format, aiming to reduce travel and environmental impact, and make conferences accessible to our members irrespective of geography. We already had experience with virtual conferences, as illustrated by the successful 16th IZFC organized by Phil Ingham. In the process of organizing the 17th IZFC, we learned that such hybrid meetings present both opportunities but also challenges, in particular an increased cost of services provided, including the conference venue, live streaming and/or recording, and digital platforms for abstract submission and programming. Our experience with the 17th IZFC will help us in planning future conferences, including the European Zebrafish Meeting to take place in Kraków, Poland, July 9-13 2023 (please mark your calendars!).
On June 22-26, 2022, 444 participants gathered in Montreal in-person, with 241 joining virtually to participate in live-streamed and recorded oral presentations, as well as poster sessions during the 17th IZFC. There was a lot of excitement about reconnecting with colleagues and meeting new ones, and sharing new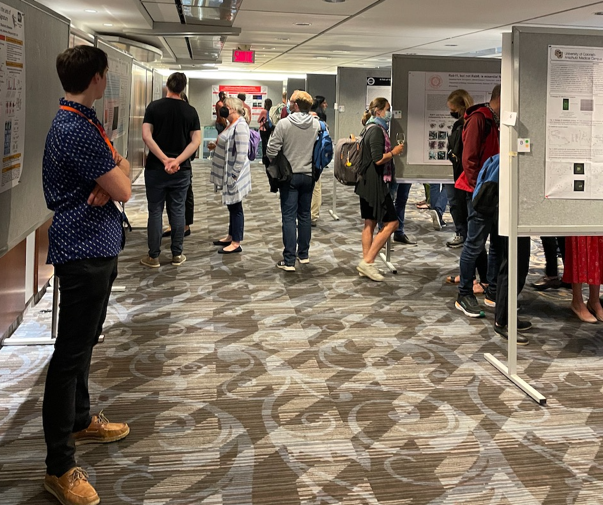 discoveries. And they were so many – we are grateful to all the session chairs who had the difficult task of selecting abstracts to be presented as talks. The single-cell genomic methods and CRISPR-Cas9 -based editing are transforming all areas of zebrafish research. We particularly enjoyed the in-person poster sessions on three levels of the beautiful Centre Mont-Royal what allowed vigorous scientific discussions with social distancing. Realizing that the virtually presented posters did not get as much attention during the conference, we organized a fully virtual poster session on July 8. The conference program reflected the dedication of the Society to sustainability, including a plenary session and workshop dedicated to this theme and organized by the Sustainability Committee.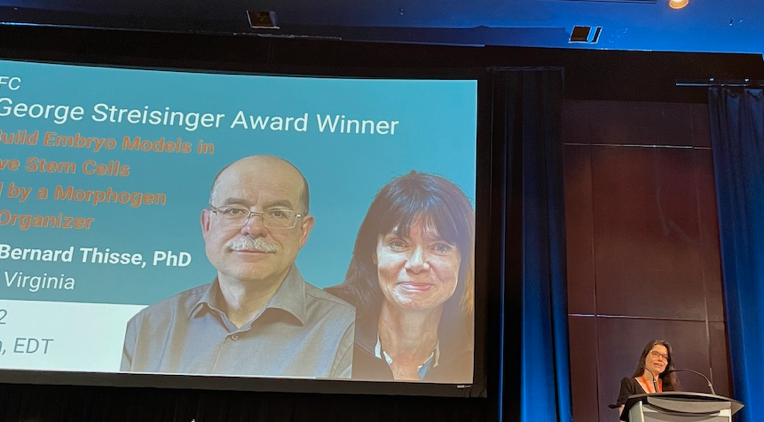 Gathering in person and virtually allowed our zebrafish family to commemorate and celebrate together the life and scientific discoveries of Bernard Thisse, whom we lost far too early last year. Christine Thisse accepted the 2022 George Streisinger Award recognizing the transformative contributions to the zebrafish and developmental biology fields by Christine and Bernard through their magnificent collaboration. Exemplifying the Streisinger Award that recognizes scientific advances empowering other researchers in the field, Bernard and Christine cloned and determined spatiotemporal expression patterns of thousands of zebrafish genes what opened many lines of investigation. The microscopic images of these whole mount in situ hybridization patterns are among the most viewed pages on ZFIN and blur the boundaries between science and art. We also celebrated the election of Chuck Kimmel and Len Zon as members of the National Academy of Sciences, USA, as well as Len Zon receiving the 2022 Christiane Nüsslein-Volhard award from the European Zebrafish Society.
It is with a feeling of satisfaction and optimism that I pass the baton of the IZFS Presidency to the very talented Kate Whitlock from the Universidad de Valparaiso, Chile, with confidence that Kate will continue to make our society more international and diverse, and in tune with the scientific needs and aspirations of our members and of our planet. I would like to take this opportunity to highlight the many contributions of Phil Ingham as IZFS President, as well as other departing members of the Board, including Hitoshi Okamoto, Karuna Sampath, and Debbie Yelon. Special gratitude goes to Becki Burdine whose tireless efforts as the News Splash Editor helped to keep us connected during the pandemic isolation. During the Strategic meeting of the IZFS Board in Montreal, we planned for a future where the IZFS engages more junior faculty and trainees in the society's activities.
As with every previous zebrafish conference, I left the 17th IZFC in Montreal energized and inspired to return to the lab and do experiments! With many methodological advances and scientific discoveries presented in Montreal and the palpable passion of all the faculty and trainees, the future of the zebrafish research and of our society is bright!
With my best wishes and gratitude,
Lila Solnica-Krezel