South West (UK) Zebrafish Meeting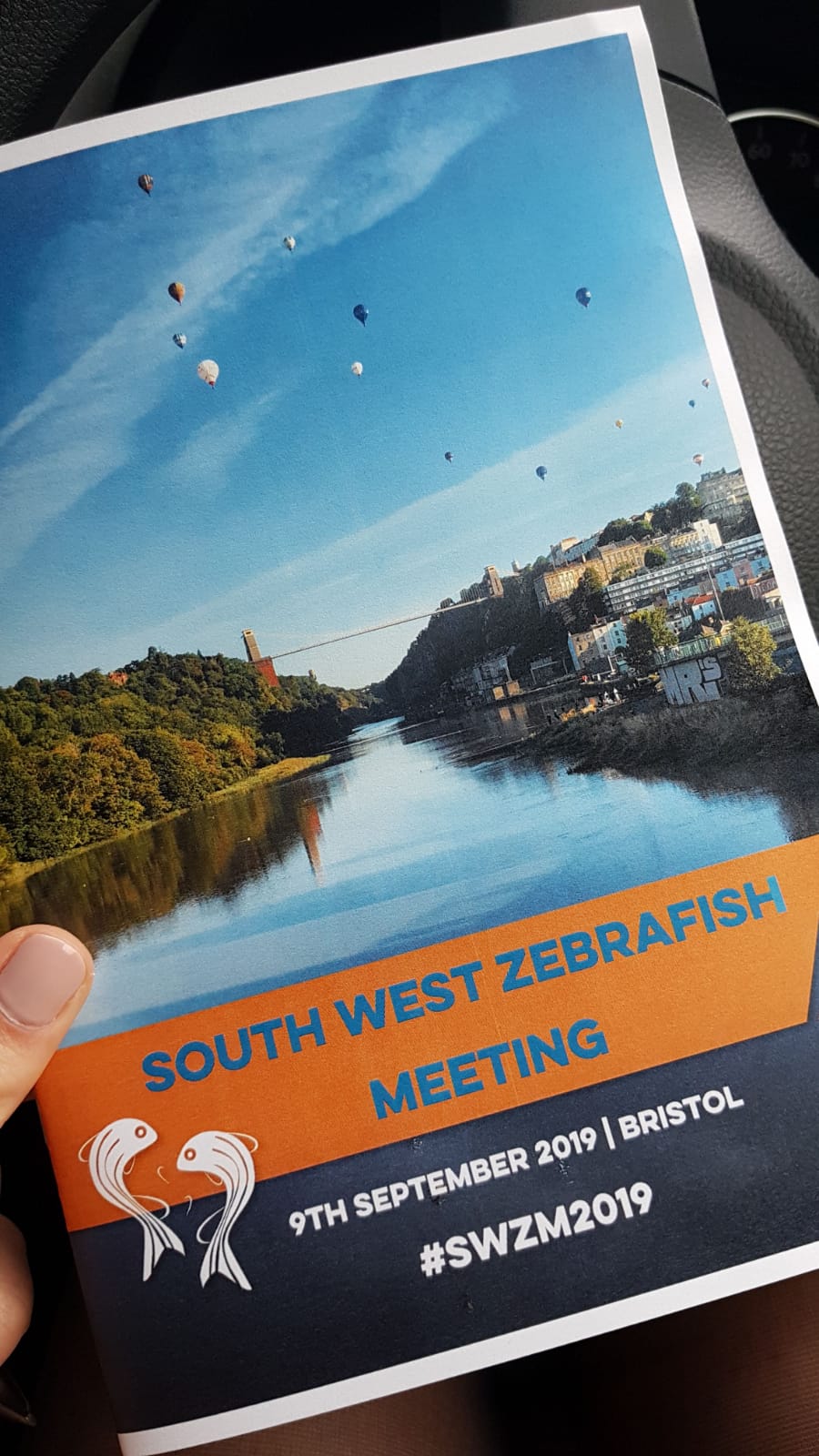 Aaron Scott (Richardson Lab, University of Bristol, UK) @AaronJonScott
The inaugural South West (UK) Zebrafish Meeting was held on September 9th, 2019, hosted by University of Bristol and generously funded by the Company of Biologists, Tecniplast, Society for Experimental Biology, IDEXX, Eurofins, NC3Rs and University of Bristol. Prof. Paul Martin opened the meeting in entertaining style and set the tone for a fun and engaging meeting. The event succeeded in bringing together researchers in the region (and beyond) to share new data and technological advances in zebrafish research. The broad range of scientific fields kept everyone on their toes and several delegates noted this as a highlight.
The daylong event included captivating keynote lectures from Prof. Soojin Ryu (University of Exeter) and Dr. Lynne Sneddon (University of Liverpool). Although these lectures were from disparate fields, stress response/neurodevelopment and refinement in analgesic/enrichment practices respectively, they both relied heavily on behavioural analyses. This thread also ran into the rest of the conference, with clear progress being made with this technically challenging phenotypic assessment – exemplified within Stephen Cross's tech-talk covering his role as the image analysis guru within the Wolfson Bioimaging Facility at University of Bristol.
The keynote from Dr. Lynne Sneddon also acted as a cornerstone for the husbandry staff in attendance and the 'break out session' led by Mathew Green (University of Bristol) gave the opportunity for new and established relationships to be built on. A critical talk from Dr. Cosima Porteus (University of Exeter) surprised many, revealing considerable interinstitutional variation in CO2 and salt levels, this is an ongoing study that can be contributed towards with anonymity, see https://conta.cc/2m7BDFg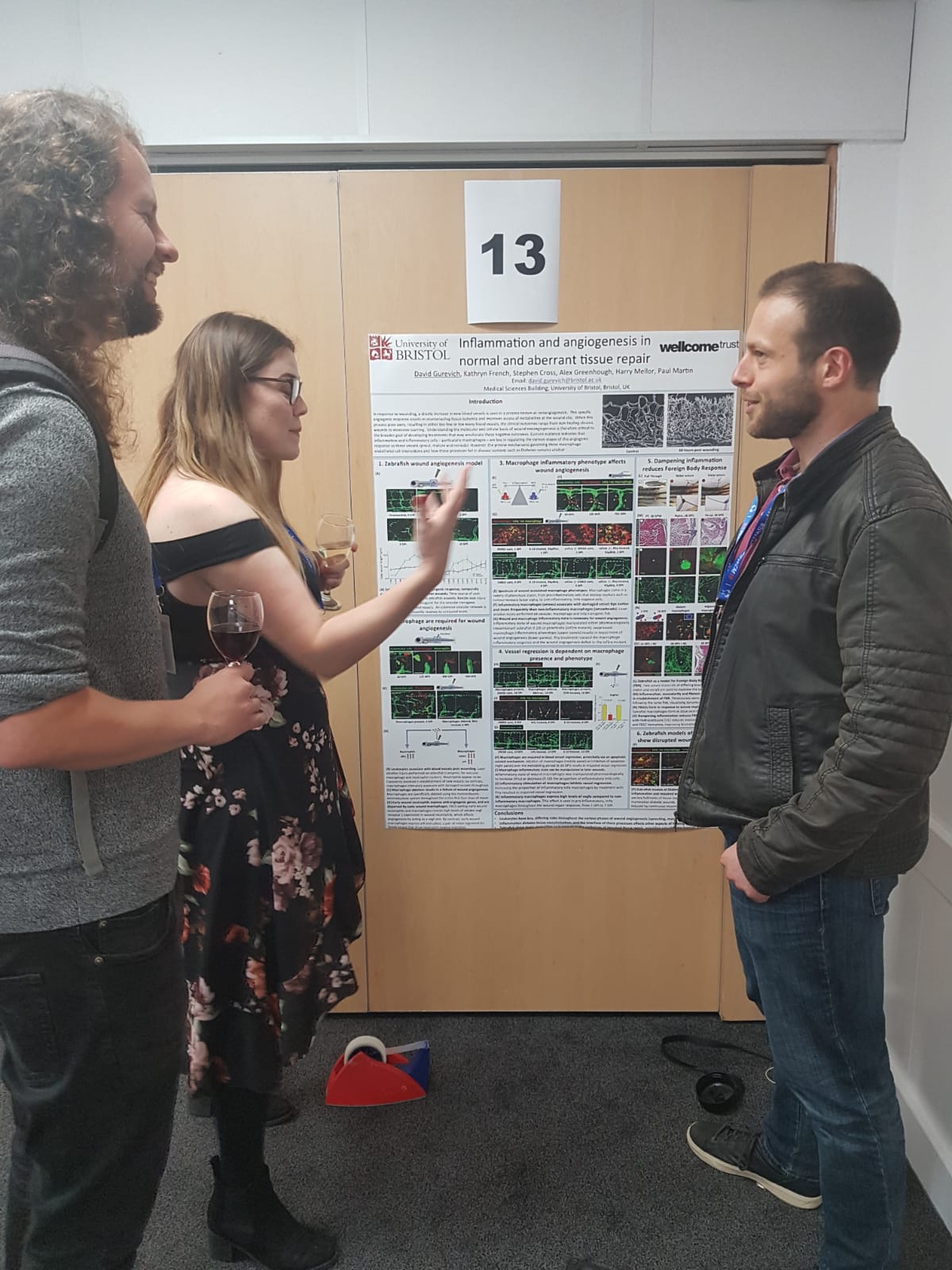 There were 4 invited speakers representing each of the GW4 universities; Prof. Robert Kelsh from University of Bath, Dr. Rebecca Richardson from University of Bristol, Dr. Yosuke Ono from University of Exeter and Dr. Hellen Waller-Evans from Cardiff University. All speakers gave a window into the cutting-edge research being conducted at each institute, with a good dose of developmental biology (neural crest fate mapping, slow-twitch muscle development and heart regeneration) and a thorough introduction to modelling diseases of lipid homeostasis. Particularly noteworthy were the achievements of the two smaller zebrafish facilities, highlighted by Dr. Helen Waller-Evans slide on the history of zebrafish research at Cardiff, with more Bristol Researchers speaking on the day than has ever worked with zebrafish at their University!
8 short oral presentations, 8 snap poster presentations and a further 13 posters were reserved for postdocs and PhD researchers, each demonstrating the strengths inherent in the zebrafish system. With Dr. Erika Kague and Dr. Mathew Winter highlighting their amenability for high throughput screening/functional analysis, Dr. Aya Takesono taking advantage of their traditional strengths to discover novel glial cells involved in olfactory development and a hearty serving of spectacular imaging in many of the presentations! Personal highlights were the presentations from William Stockdale, Helen Potts (Mommersteeg Lab, University of Oxford) and Jennie Campbell (Wood Lab, University of Bristol), with their complementary models in the Mexican Cavefish and Drosophila respectively.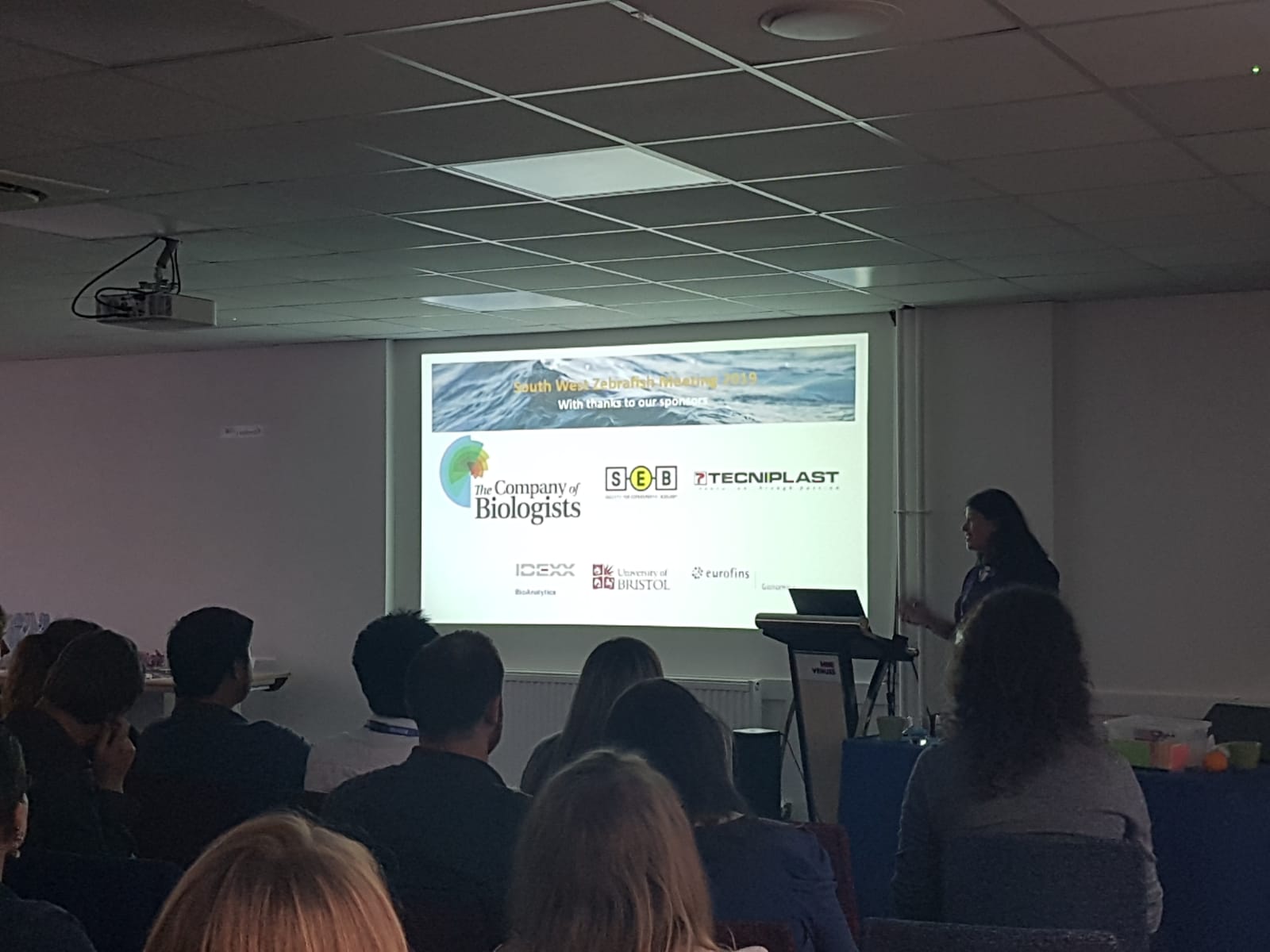 A single prize was awarded to Dr. Lucy Brunt (Scholpp Lab, University of Exeter) for the best oral presentation, a fascinating talk on the role of planar cell polarity core components in regulating cytoneme-mediated Wnt transport. There were three prizes awarded for the best posters, 1st prize went to Caroline Pellet-Many (University College London) presenting her work on zebrafish heart regeneration, 2nd prize to Lucy McGowan (Hammond Lab, University of Bristol) dissecting the role of wnt16/inflammation in in skeletal damage and Joanna Moss (Hammond/Lane Lab, University of Bristol) exploring the role of autophagy in osteoarthritis.
In total there were 80 delegates on the day, including researchers from outside the South West (Liverpool, London, Oxford, Sheffield, Swansea and a special guest from Germany). I'm sure I can speak for the whole organising committee (Beth Moyse, Prof. Chrissy Hammond, Elizabeth Lawrence, Joanna Moss and Matthew Green) in expressing our gratitude to all that attended and we look forward to the continuation of this meeting, with University of Exeter agreeing to host next year's event!